World-class production services powered by great imagination
(with a little help from ProTools).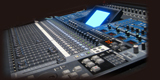 Whether you require voiceover services or an entire production with full sound design, your audio will be treated to the same great care at the hands of audio engineers and producers each with more than 25 years of experience. Our main studio at Creative Genius Productions features the Yamaha 02R96 digital recording console as the front-end with your choice of studio mics. All tracking is done in ProTools. Editing and mixing are done on any one of six ProTools systems complete with the WAVES Diamond plug-ins.

The studio is equipped with ISDN, multiple phone lines and digital phone hybrids to handle recording of any type of talk or call-in show, voiceover work, or audiobook narration And with our Telos Delta phone hybrids, remote direction is just a phone call away, too! Whether you're the producer or the client, you can sit in on the sessions and hear the program as it's being produced to make sure you're getting exactly what you want. And since the audio is fed directly down the phone or ISDN lines, it will sound much better than the speakerphone your last studio used. Quality counts!
Production services include both studio and location recording of audio tracks for most types of audio, video and film production. This includes sound design and audio sweetening for video including ambient tracks, sound effects and foley.

We have full licensed access to all 30 of the Firstom libraries of music which means we have nearly 190,000 different themes available for your production with another 7000 new themes released each year. Of course, all of our music is custom edited to fit your productions exactly.
When the success of your product launch, your marketing campaign, your fundraising appeal, or your radio or television production is at stake, get the team of Creative Geniuses behind you.
What's
your

story? Let's start

telling

it!